Rise Team Member Spotlight: Dave Kassing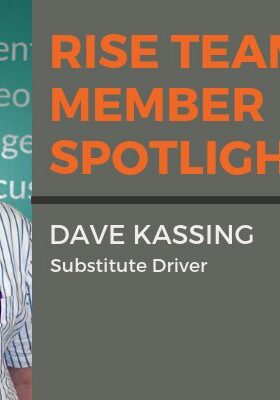 Hoping to find a meaningful way to fill up his wide-open schedule after he retired, Dave Kassing decided to take a friend's advice and check out a part-time van driver position at Rise. A driver himself, Dave's friend knew Rise was looking for reliable substitute drivers to take people to and from their work sites.
"I thought this sounded like an interesting opportunity for a couple of years," said Dave with a smile.  "That was nearly four years ago."
What has kept Dave at Rise well beyond his expected tenure?
"Rise is an amazing and impressive organization! There is a saying people don't care how much you know until they know how much you care. It has been my experience that everyone I have met and worked with genuinely cares about doing the best they can all the time."
Being a substitute driver, Dave seldom drives the same route twice. Driving different routes enables him to get to know the wide variety of people Rise serves, as well as their parents, caregivers, and Rise team members.
Dave draws inspiration from the people he meets while driving and says that each one touches his life in a special way. "I am constantly in awe of people's courage, determination, and humor."
When thinking about the big picture of Rise's impact on the community, Dave says, "I am amazed at the effort it takes to coordinate transportation, work assignments, and staff schedules for more than 700 people every day." Some days while driving up to 200 miles in a shift, he thinks to himself about all the planning and maintenance required to tackle such useful and meaningful work.
Dave enjoys creating a bond with the people he drives and takes pride in knowing that he helps them prepare to meet the challenges each day brings. Often, the people he transports comment on how much they love their regular driver, but are always quick to say they enjoy his company, too. Offering lively conversation with whomever Dave gets to drive is an exciting and fun of the job.
It takes a village to provide work so integral to the success of many lives, and Dave is happy he stumbled upon Rise. What started as merely a way to spend his free time has become something much more substantial.
"What keeps me here now is the honor of being associated with such wonderful people who serve amazing people."
Rise is excited to have great people like Dave on our team, working hard to help us carry out our important mission in the community. Contact us today to learn more about our programs and our team.
Are you looking for an exciting new career opportunity? Check out Rise's open job positions today!