Rise Team Member Spotlight: Amanda LaPlante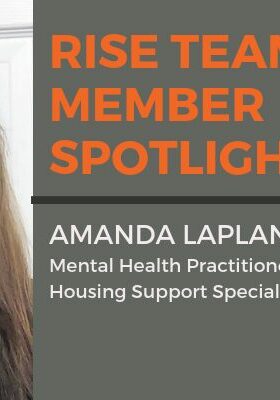 As a mental health practitioner and housing support specialist with Rise, Amanda LaPlante works in the ARMHS (Adult Rehabilitative Mental Health Services) and Rapid Rehousing programs to assist people with their housing challenges. Through her support, people can get back to living a functional life, find stable housing, and become self-advocates.
Many individuals who live with mental illness have difficulty finding housing on their own, perpetuating their homelessness further. Through the coaching and support Amanda provides, people are able to begin the process of finding housing.
Not only does Amanda and her team members work to help end homelessness, but they also take steps to prevent homelessness. They do so by working with people to provide contingency plans that prepare them for unforeseen challenges. Job coaching, budget coaching, how to apply for short-term financial support—Amanda is there to help people through difficult times and to prevent homelessness.
Due to serving two unique roles for Rise, Amanda's job features a blend of working with housing managers to find affordable housing and providing vital coaching to people. She estimates that she spends about 75 percent of her time serving in her role as a mental health practitioner. When she's out in the community working with housing managers, she serves as an advocate for the people Rise serves.
"Being able to advocate for people on their housing rights is a huge appeal to my job," Amanda says. "It can be intimidating for the people I work with to speak with landlords, especially when they don't know their rights."
She also enjoys seeing how people's perceptions can change. "It's great to see the shift in perception a landlord can have. They learn that when people get a second chance, they can end up becoming great tenants."
Amanda joined the Rise organization three years ago, having previously worked within housing programs. The biggest draw to working for Rise was the opportunity to "work for an organization that works for the people."
Outside of work, Amanda stays busy with her two children. Her son is active in basketball and BMX, and her daughter with dance, Girl Scouts, and horseback riding. Amanda also volunteers at a local animal shelter to help care for animals who are awaiting adoption.
"One of the things I love about working for Rise is their commitment to education training," Amanda says. "Rise is always willing to help employees expand their education and knowledge through ongoing training, which enables us to perform our jobs better. "
Rise is proud to have caring individuals like Amanda helping us carry out our mission.
Are you looking for an exciting new job opportunity? Check out our open careers today.