UNLEASHING THE INNER ARTIST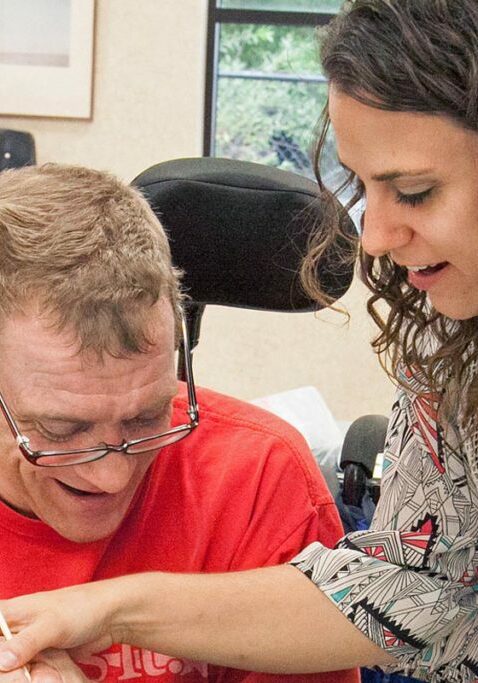 Posted on Feb 23, 2016
BRIAN HOFFMAN HAD a vision for his painting of the Statue of Liberty and appreciated the professional tips on acrylic techniques he received from Art Therapist Stacy Gross. He plans to hang the painting on his living room wall.
"I like to paint because it's relaxing for me," said Brian. "My first painting of a lighthouse was so good, my mom made notecards of it!" She then sold them and donated the proceeds to Rise's Art Speaks program.
"All of a sudden I was an artist and I was proud — it felt good."
Stacy works with people in Rise's Day Training and Habilitation and Adult Day Programs. Art Speaks complements other therepeutic and habilitative services people receive. Stacy guides them and encourages them to speak out through different art media.
"Creating art provides opportunities for self-expression," said Stacy. "Through art groups and exhibitions, our artists experience the chance to find their voice and share it with others. Creating art also fosters self-esteem, promotes self-regulation and relaxation, reduces anxiety, increases independence, and develops problem-solving and decision-making skills."
In October 2015, 500 guests at Celebrate Rise Fundraising Gala took home a hand-painted tile coaster, specially created by an Art Speaks artist just for the occasion. At this year's gala, guests will also receive a great Art Speaks product.
Artists have the opportunity to display their artwork in public, private, and corporate sites throughout the Twin Cities area.
CUMMINS' SUPPORT  
Cummins Power Generation has  been an avid supporter of Rise's Art Speaks program for many years. Its two corporate office buildings in Fridley rotate original artwork on a regular basis and annually hosts an artists' sale. Cummins's associates in the United Kingdom were so impressed with the program that the Community Involvement Team in Kent now works with the Royal School for Deaf and Hartsdown School to give young artists an opportunity to display and sell their artwork.
This article appears in the March 2016 issue of the Rise Reporter.