PENTAIR CO-WORKERS RANDY AND FRANK HAVE FRIENDSHIP BEYOND THE WORKPLACE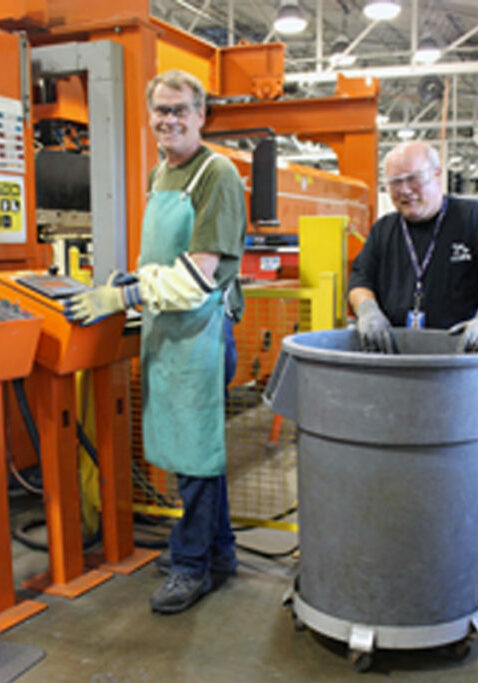 Posted on Aug 29, 2014
It was a great Minnesota summer evening for a concert in the park. Among the hundreds of music enthusiasts who had gathered to listen to live blue grass music were Randy Olson and Frank Thielen.
The two men met back in 1993 when a crew from Rise's Community Integration Program (CIP)-Coon Rapids began working at Pentair's SCO (Stainless and Composite Operation) facility in Anoka. Frank was a hard-working guy and his outgoing, friendly personality quickly helped him make friends at Pentair.
"I was Frank's unofficial job coach, along with his Rise supervisor," said Randy, a fabrication operator who has worked at Pentair for 33 years. "We just seemed to hit if off from the beginning, When our SCO team was going to move to Pentair's plant in Brooklyn Center, we wanted to take Frank with us because we all liked working with him so much. Transportation was an issue, so we took turns picking him up and taking him to work."
A few years later, both Randy and Frank returned to Pentair's Anoka plant. Frank refers to himself as "the junk-away guy" and collects the thin plastic coating that Pentair workers peel off the stainless steel they are cutting and forming into various container products.
"Frank is all over the plant and has a great sense of camaraderie with the employees; he is quite a morale booster," said Randy.
But Frank and Randy's relationship goes far deeper than just being co-workers; the two have developed a great friendship. It started with Randy accompanying Frank to Pentair-sponsored outings such as picnics and moonlight bowling. Randy was in a golf league so he invited Frank to drive his cart for him. They both enjoy going to Twins baseball games; they attend People of Praise church in Anoka together. Randy introduced Frank to fishing – and he was hooked!
Frank recently bowled a 231 game. "And the whole bowling alley heard about each and every strike," Randy remembered with a laugh. "Frank doesn't like to bowl with me, though, because he's too competitive and wants to win every game." Randy also coaches Frank's Special Olympics bowling team.
Frank and Randy took a two-week vacation earlier this summer, traveling through the Black Hills into Colorado where a friend of Randy's runs a Fishing Without Boundaries program for people with disabilities. There Frank was set up with a fishing guide and buddy and had the thrill of reeling in some impressive-sized fish.
Frank is well-known in the area. He enjoys walking in the evening to the local grocery store and carries a large garbage bag with him to pick up trash there and back home. Neighbors appreciate his efforts and often treat him to a can of pop.
"Wherever we go, there are people who greet Frank," said Randy. "A few years ago, he and his brother were on a mountaintop in Germany and ran into someone who knew Frank! He's just a great guy and people really enjoy him.
"When I met Frank 20 years ago, I never would have imagined that we'd still be friends today."
"Randy and I are buddies," Frank said. "We're good buddies."
The two men will be featured in a video shown at the Celebrate Rise Fundraising Gala on October 2. This article appears in the September 2014 issue of the Rise Reporter.