STORY #39 – LAKEISHA SQUALLS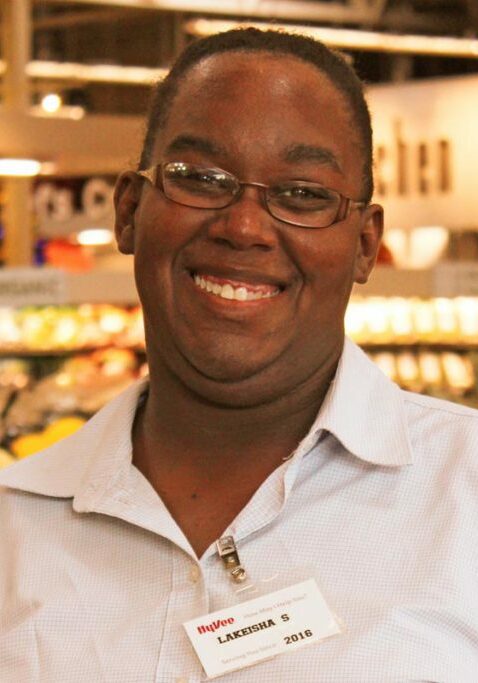 Posted on Nov 07, 2016
With more than 240 stores located in eight Midwestern states, people are excited about the new Hy-Vee grocery stores now opening in Minnesota communities. One of the newest stores is located in Brooklyn Park and LaKeisha Squalls was among the first employees to be hired as a cashier when the store opened on July 26.
It was a big relief to LaKeisha, a single mother of a young daughter, to be back at work after being unemployed for nine months.
"I've worked since I was 14 years old so it was really hard for me to get laid off — I just couldn't imagine not working. I am solely responsible for my daughter and I couldn't give her what she needed. It had a huge impact on all aspects of my life and I was so worried that it even affected my health."
Since LaKeisha received MFIP (Minnesota Families Investment Program or welfare) during her period of unemployment, she was referred to Rise's Pathways program in South Minneapolis for career planning and job placement services. A Rise placement specialist assisted her in finding her job at Hy-Vee.
LaKeisha had a solid work history having been a dietary aide for a large hospital as well as a cashier in a major retail store so she had the skills and experience Hy-Vee was looking for. An employee-owned company, Hy-Vee hires hard-working, dedicated people to deliver its high quality goods with superior customer service.
"Our customers are so great and so are my Hy-Vee managers," said LaKeisha. "They are just fabulous people – everyone here is so kind and friendly."
And because Hy-Vee is employee-owned, LaKeisha is excited to help the store be successful by giving her best to each customer and co-worker.
In addition to cashiering, LaKeisha plans to cross-train in customer service with Hy-Vee. She also hopes to return to school next year to study business management.
When not working, LaKeisha is a full-time mom to her daughter Keniya, who will turn four on December 1. She is currently in the throes of planning an extra-special birthday party for her daughter which will feature a guest appearance by "Elsa" from Disney's Frozen!
Mother and daughter enjoy dancing, cooking, and watching educational programs together. They live two miles from the Hy-Vee store so LaKeisha walks to and from work each day, enjoying the fresh air and exercise.
"She's a little spitfire," said LaKeisha of Keniya with a laugh. "She reminds me so much of my mom who died seven years ago and whom I still grieve for. It's nice for me to see her in Keniya."