Lauren's determination pays off with two great jobs!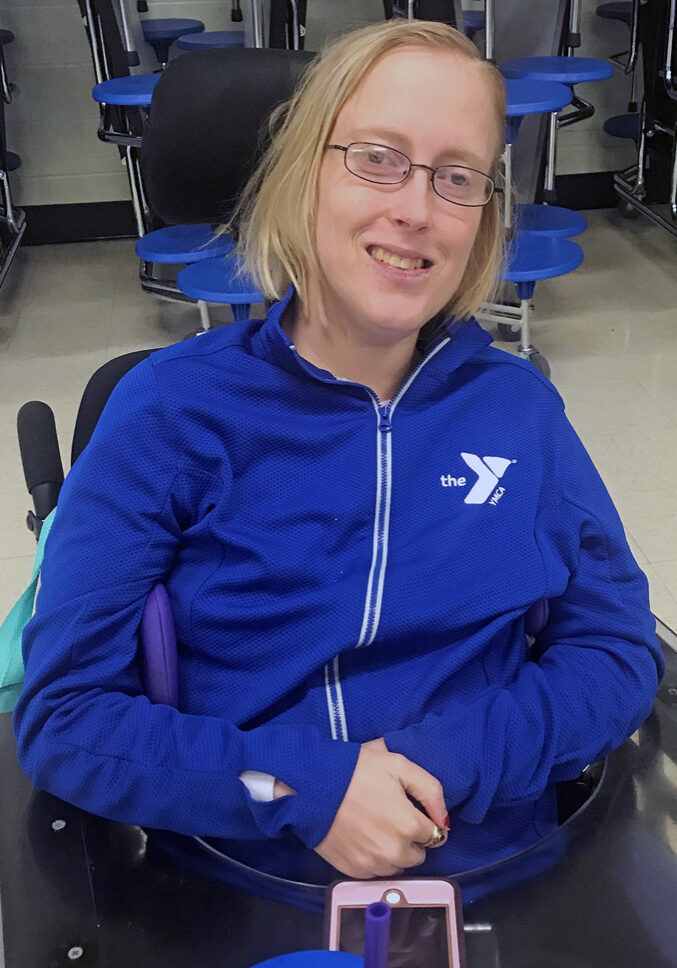 By Michael L. Sack
Growing up in Mapleton, a small town in south central Minnesota, Lauren Ireland enjoyed school and having fun with her friends, but was not really sure what she wanted to do in the future. Today, after a long journey, Lauren is grateful to have two good jobs. She is ecstatic that her adventure has led her down this path.
After graduating from Maple River Senior High in 2006, Lauren moved to Courage Kenny Rehabilitation Institute and joined their Independent Living Skills program for three months. "I worked with people who had all different disabilities," she mentioned.
Lauren went on to attend Southwest Minnesota State University in Marshall in 2007 for one semester. College life, however, became "too stressful" for her, so she eventually moved to Dungarvin in Eden Prairie in 2008. Lauren found her calling nine years later.
In early 2017, an acquaintance told Lauren about Rise and she was excited to check out employment opportunities at their Bloomington location. When Lauren started as a data entry clerk at Rise in October 2017, she was nervous about what to expect.
But that feeling quickly faded into thin air because Lauren made "wonderful friends" almost immediately. In her first few weeks working at the person-centered program, she found what she was looking for all along.
As a data entry clerk, Lauren likes entering dates to prepare upcoming timesheets. She enjoys doing dates so much, that her supervisor, Piper Wohlfeil, suggested that she take on new projects. Lauren "gets along with supervisors well." Lauren is also learning how to be a receptionist at the front desk and use a multi-line phone.
In addition to working hard, Lauren enjoys other aspects of her day in Bloomington. "I like Rise's Art Speaks program and my massage therapy," Lauren explained. "I also appreciate the community outings Rise provides."
As she became more comfortable at Rise, Lauren was thrilled to discover that Rise had a program to assist people find community employment. Lauren began meeting with Job Placement Specialist Sarah Gustafson about job exploration. Together, they talked about Lauren's skills and interests. "Sarah assisted me with applications, trainings, and transportation issues," Lauren said.
Following ten submitted job applications and three interviews, she landed a job at a Burnsville YMCA helping with kids in their daycare program!
"Lauren's sparkling, positive and intelligent approach to her job search made it a real joy to be a part of," says Sarah. "Lauren has a marvelous sense of humor and is quick to laugh and find the fun, thus making time spent with her a pleasure."
"Without Sarah's help, I wouldn't have my job at the YMCA," Lauren said. "I love the kids I work with. It's a challenge, but that's okay because that is what I wanted."
Lauren works at the YMCA five days a week, from 6 to 9 a.m. Then she goes to Rise Bloomington to work another four-hour shift on four of those days.
When she's not getting up extremely early to get to work, Lauren loves to read and uses the skills that she acquired from the Art Speaks program for projects at home. She has a therapy dog who keeps her busy. "I also like to visit with other residents in my group home campus," she added.
Lauren is currently figuring out how to, in her words, "balance my work and social life." She is well on her way. In the near future, Lauren will no doubt have it down pat, enjoying a career she long envisioned.
Michael Sack is a data entry clerk at Rise Bloomington. Check out his blog, Two Men On, which he and his buddy, Sam Graves, write about sports. You can find it at: gravessack.wordpress. com.
This article appears in the March 2019 issue of the Rise Reporter.