Rise internships offer robust training, a chance to participate in an industry leading non-profit organization and connections to build your professional network. Our internships provide hands-on experience in direct service or administrative roles that can help you launch your career. We have opportunities to fit a broad range of college majors and learning goals. All of our internships are designed to be both educational and practical
Internship opportunities are offered year round and are flexible to fit your school schedule, including full time and part time options. Rise summer internships operate through our cohort model where interns from across the organization participate in bi-monthly trainings, check-ins and activities.
Recruitment for the summer cohort usually begins in February, later summer for fall internships and late fall for spring internships. View current internship openings on our careers page.
Internship areas include:
· Human Resources
· Training and Development
· Assistive Technology
· Job Placement & Skill Development
· Government Affairs
· Development and Special Events
· Art Therapy
· Occupational Therapy
· Marketing and Outreach
· Production and Sales
· Program Development
· Volunteer Management
· Case Management
· Community Innovation
· Partnership Development
· Data Analysis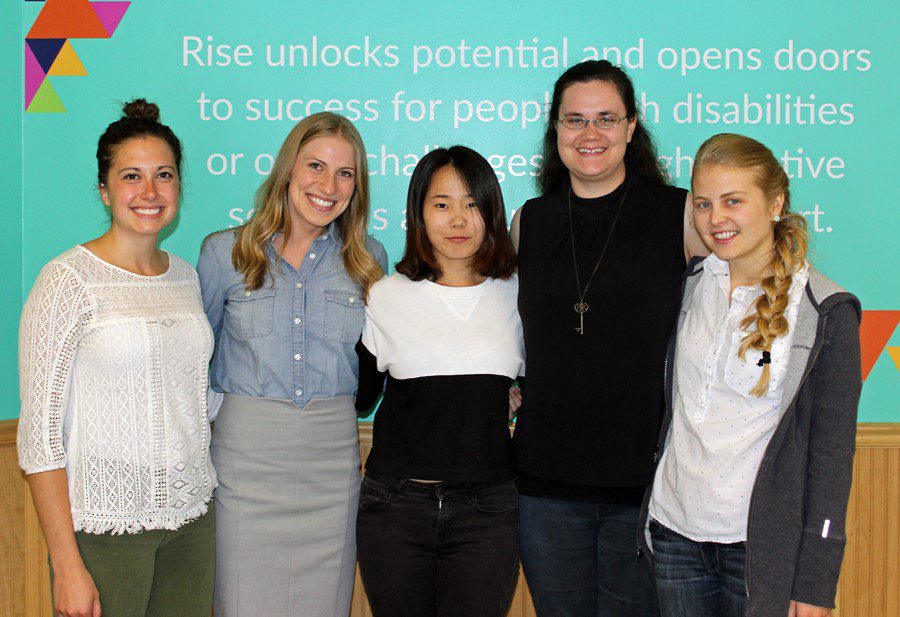 Rise Summer 2017 Intern Cohort
If you have questions about our internship opportunities, please contact Rise's volunteer program at volunteer@rise.org