Initiative could be Erik Selseth's middle name!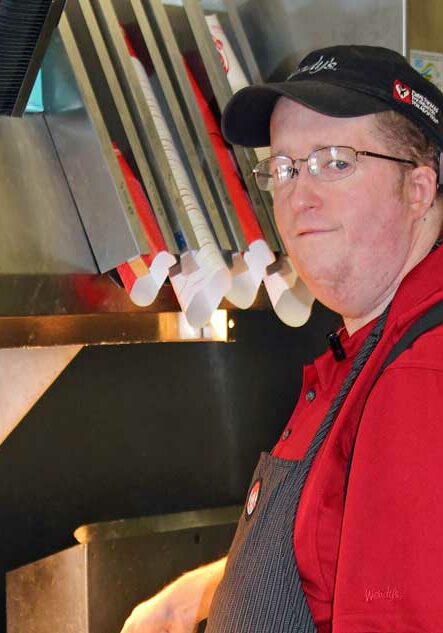 Initiative could be Erik Selseth's middle name! (It's not–it's Nelson.) A quietly confident guy, he is comfortable speaking up for what he needs and wants to do to keep his career  moving forward.
After working for nine years with a Rise team at Liberty Carton Co. in Brooklyn Park, Erik asked for assistance in finding a competitive job. Rise Placement Specialist Lisa Carlson worked with him to assess his skills and strengths, define his employment goals, and find a good job at which he would enjoy and excel.
Erik, who is 35, was hired as a janitor at the Wendy's restaurant in Anoka two days a week in June 2017. Since that wasn't a full work schedule for him, he continued to work at Liberty two days a week assembling a wide range of customized containers.
Rise Follow-up Support Specialist Sue Featherly initially worked with Erik to learn his new job at Wendy's. As he got more comfortable and better at his job, Erik wanted to increase his hours. So he took the initiative to ask General Manager Nicole Tracy if he could work two more days a week and she agreed. Now working four days a week at Wendy's, Erik turned in his   notice at Liberty.
Although Erik did a great job in his janitorial and dishwashing duties, he wanted to expand his tasks. He asked Nicole if he could start learning some food prep tasks, such as pre-cooking bacon in the mornings.
"She was a little surprised I asked for more job duties, but Nicole knew I learned fast by watching others so my co-workers showed me how," said Erik.
He now works during Wendy's busy lunchtimes with frying French fries and chicken, and sometimes flipping burgers. When Erik asked if he could learn how to take customers' orders, his co-workers were happy to work in tandem with him at the ordering counter.
"I never know what I will find Erik doing when I go see him," said Sue who continues to follow up with Erik a couple of times a month. "One day he maybe cleaning the lobby to make sure it is ready for the lunch rush or he could be scooping fries to fill orders. Erik is like a sponge and wants to absorb as much information as he can and learn new things."
"Erik is always striving for excellence and challenging himself to learn new things," said Nicole. "He's a bit of a perfectionist – which is great — I think he's doing exceptionally well."
Erik also takes customized online courses and watches training videos made for Wendy's employees. He enjoys increasing his knowledge and skills in different areas.
"I think I do a good job and am responsible," said Erik. "I plan to work here at Wendy's for a long time. I make good money and I like the food!"        
Erik lives with his family in Oak Grove and plans to move into his own place in the near future. In his free time, Erik and his girlfriend enjoy spending time together, especially going to movies and eating out.