STORY #24 – ROCKY BREDERSON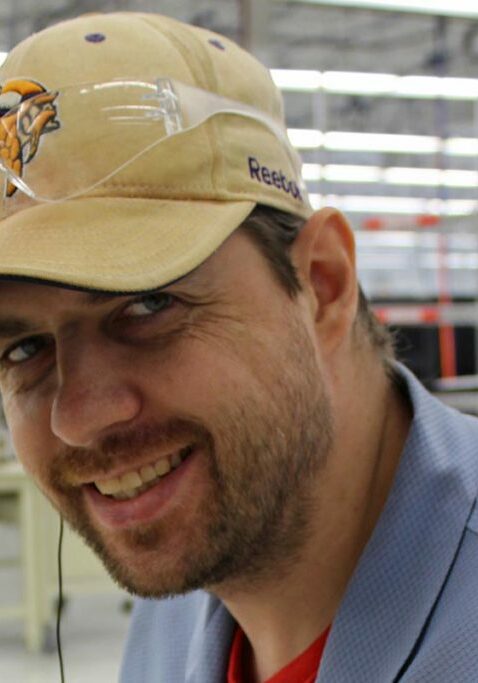 Posted on Jul 19, 2016
For Rocky Brodersen, it's all about the journey – literally!
A biking enthusiast, Rocky enjoys pedaling his way around the Twin Cities on the many miles of bike trails. He also rides a moped.
"My philosophy is that I'll go wherever my wheels and pedals take me!" Rocky said with a laugh. "I've always wanted to drive and so I went to the DMV (Department of Motor Vehicles) and passed my permit test to drive a car on my first try! Now I just have to get a car!"
Rocky's love of the open road feeds his career goal: Rocky's dream job is to work on bikes – building, repairing, and maintaining them. In the meantime, he's building his skills at Rise through which he has worked at a number of community businesses over the past 15 years.
"I've liked all the jobs I've had; I've worked at Federal Premium Ammunition, Liberty Carton Co., Minco, Premium Waters, Faribault Foods, and for the past three and a half years, here at Logic. I think I'm really learning a lot of different skills at Logic which will help me get a competitive job. We work as a team at Logic, but also very independently, based on the tasks we have that day." Here Rocky is assembling computer circuitry cards.
Rocky's journey toward greater independence has led him to become actively involved in self-advocacy and he currently belongs to three different groups. Rocky is the vice president of the Believers of Self-Advocacy Group, is an active member of Self-Advocacy United, and sits on The Arc Greater Twin Cities' Self-Advocacy Advisory Committee.
He also earned his certificate in Partners in Policymaking from the Minnesota Governor's Council on Developmental Disabilities in May. The nine-month course was held once a month at the Marriott Hotel in Bloomington.
"It was a really good course about the history of how it used to be for people with disabilities and how it has changed over the years," Rocky explained. "We also learned a lot about inclusion and how to integrate people into their communities."
And having someone special to share your journey with is important, too. Rocky met his girlfriend, Katie McDermott, at a self-advocacy meeting in 2014. "I couldn't take my eyes off her," he said without a blush. "We've been together ever since and besides going to a lot of meetings, we love to swim, play board games, take walks, go bowling, and hang out."  Katie works as an advocacy associate with The Arc Greater Twin Cities.
Rocky has also been active in Special Olympics since 2001, competing in bowling, floor hockey, basketball, softball, and bocce ball. He lives in his own apartment in Coon Rapids with his four cats, Dylan, Spot, Charlie, and Shadow.
"Life is good," Rocky concluded with a smile.